Dine in Spain from the comfort of your own home with our collection of dining room decorating tips and advice that will introduce some Hispanic influence to your mealtimes this summer.
Use a Warm Colour Palette
Use the Spanish flag's national colours of orange and red as a base theme to work from and balance their vibrancy with relative pastels and neutral shades of cream or peach. Such colour schemes will also add warmth all year round for when summer ends.
Red is the strongest colour within the theme so use it sparingly for a feature wall to ignite passion into one area of the dining room or carefully place it within fabric accessories and soft furnishings.
Neutral Colours Enhance Nature's Light
Spanish house exteriors generally tend to be whitewashed or light neutral colours with warm pops of colour. The same can also be applied inside which will also brighten up the room when light flows in.
Decorating in neutral tones will highlight the beautiful craftsmanship of your furniture and show off any wooden finish. Simple colours are minimalist and modern but they give the room flexibility for more lavish accessories such as patterned rugs and curtains.
Traditional Spanish Household Features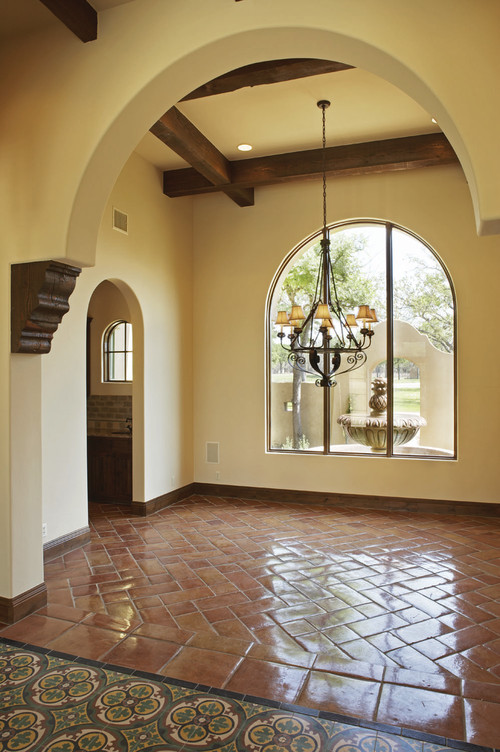 Floor tiles are a common feature in Mediterranean households because they are easier to clean of dust and dirt from the dry environment of countries like Spain. Bigger tiles mean less grout for contaminants to hide in and parquet patterns are also popular.
The typical dining furniture used is traditional and basic i.e. a dining table and chairs, possibly an additional display cabinet or dining set storage unit alongside to accompany them. Characteristics include dark lacquered wood and simple upholstery where comfort is required, with common design features such as twisted legs, rattan patterns, and intricate carvings for decoration.
Rugs aren't always used but I recommend using one to protect the furniture from wearing (mainly chairs as they are slide out from underneath the dining table) and to protect the floor from damages. Floral and regal patterns are often used however anything with a splash of patriotism towards the Spanish flag is always a good choice.
Olé
Now that you have some Spanish dining room design choices to try out, you can give yourself the feeling of being abroad without needing to travel. Cook your friends and family a huge serving of Paella, cue the Latin American Jazz, and mix up a batch of Mojitos to complete the effect.